Mission & Vision
Stella Container Logistics is your reliable transport partner for one way container transport, reefer container transport and the transport of containers with hazardous materials. Based in the heart of the Rotterdam port, the Stella team work hards to ensure that your container arrives at its destination on time – every time. We have been delivering rock-solid service for over 20 years. In fact, we won't settle for less.
As specialists in one way container transport, we can guarantee you an efficient, reliable and more sustainable transport process. Stella Container Logistics handles the transport of more than 100 containers per day, to a variety of European destinations. Every day our charterers drive between the ports of Antwerp/Rotterdam and Southern Germany, France-Alsace and Switzerland.
Our routes can be quite complicated, but as a partner, we're as straightforward as you can get. You can always count on our full commitment and clear communication. At Stella we always assign you a fixed contact, for example. We have digitised our entire workflow, and we're constantly looking for opportunities to plan your transport even more effectively.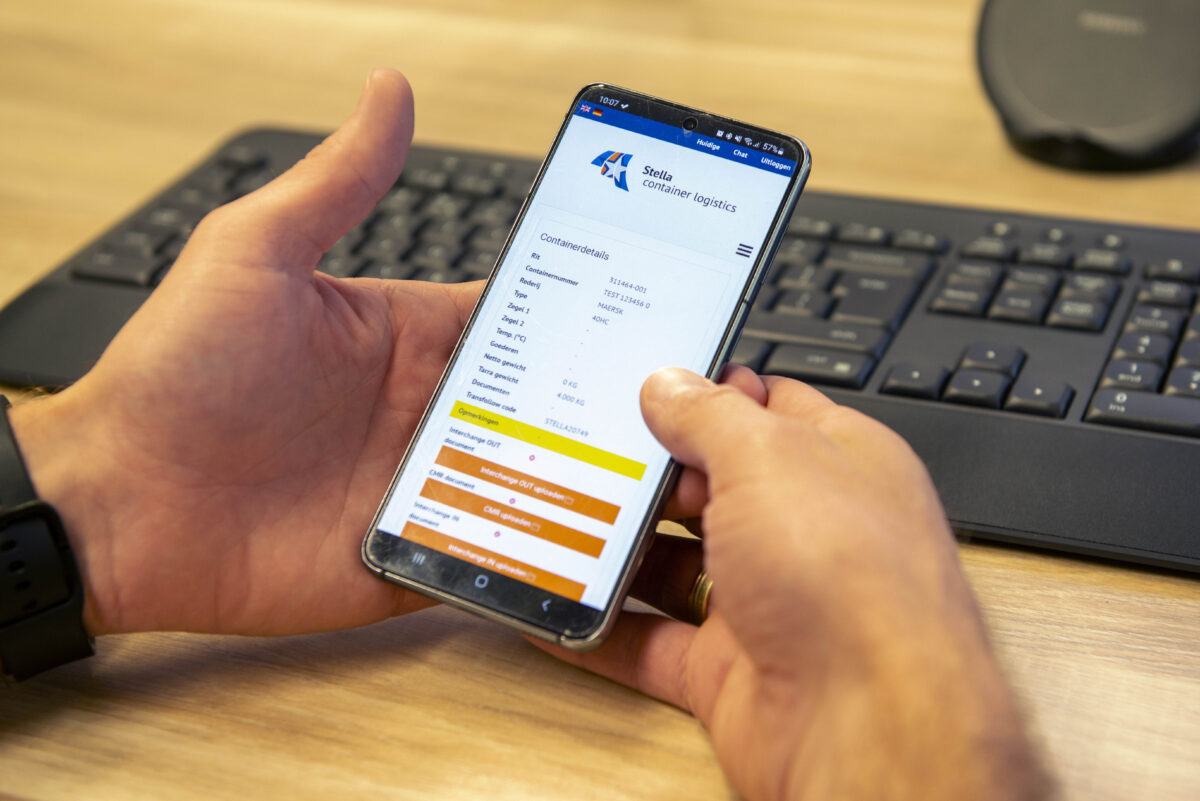 Innovation helps you move forward
Thanks to our innovative Stella app, you can always remain up to date. When you order a container transport, you want to know exactly what to expect. That is why together with our clients and charterers, we are constantly looking for new ways to make our transport process even more efficient. One example of such an efficiency improvement is our Stella app. This app notifies charterers of a new transport order – the very moment it is issued. And it enables us to immediately inform clients about any delays that crop up along the way. If there's a waiting time, we forward the waiting time report and CMR to the client immediately after loading or unloading. Which means that you always know exactly where you stand.
Do you have any ideas as to how we can arrange your transport even more efficiently? We'd love to hear them!
Why choose Stella Container Logistics?
Excellent service and flexibility
Fixed contact
Specialised in one way container transport
Reliable charterers and drivers who meet strict quality requirements
Get to know our team and contact us.
A star is born –
Unum Stella Nasci Est.
Stella Container Logistics was founded in 2003: a star is born. Originally, we intended to name our new firm Star Container Logistics. However, another transport company with a similar name threw a spanner in the works. To nevertheless preserve the first names of founders STeven Been and ARjan Gorter (STAR) in the name of the new company, we translated 'star' into Latin: Stella! Since then, under the inspired leadership of brothers Arjan (operations) and Hans (finance) Gorter, Stella Container Logistics b.v. has become a household name in the sector.